Ga Terug
Amsterdam Dementia Cohort
The Amsterdam Dementia Cohort was established in 2000, along with the foundation of the Alzheimer Center Amsterdam by professor Philip Scheltens. In this clinic, top quality patient care and scientific research are performed in parallel. All patients that visit the Alzheimer Center Amsterdam are asked to consent to the use of their clinical data for scientific purposes. This patients population comprises the Amsterdam Dementia Cohort, which currently consists of almost 7000 individuals.
Patients that are referred to the Alzheimer Center Amsterdam undergo an elaborate one-day screening battery. This battery consist of, among others, extensive neuropsychological evaluation, a MRI scan, an EEG, and a lumbar puncture. After their baseline visit, the majority of patients visit the clinic annually for follow-up. The Amsterdam Dementia Cohort has evolved into one of the most elaborate clinical databases in the field of dementia research. Additional information on the set-up, content, and data collection procedures within the Amsterdam Dementia Cohort can be found in the reference below (van der Flier & Scheltens, 2018).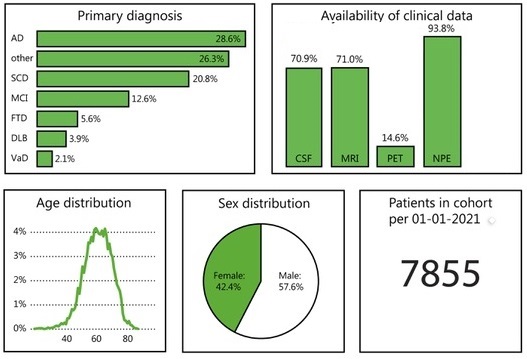 The distribution per diagnosis, sex, age, MMSE, and availability of clinical data of all patients in the Amsterdam Dementia Cohort per January 1st 2019.
Literature references Amsterdam Dementia Cohort
van Der Flier, W. M., & Scheltens, P. (2018). Amsterdam dementia cohort: performing research to optimize care. Journal of Alzheimer's Disease, 62(3), 1091-1111. DOI: 10.3233/JAD-170850
van der Flier, W. M., Pijnenburg, Y. A., Prins, N., Lemstra, A. W., Bouwman, F. H., Teunissen, C. E., … & van Egmond, E. (2014). Optimizing patient care and research: the Amsterdam Dementia Cohort. Journal of Alzheimer's disease, 41(1), 313-327. DOI: 10.3233/JAD-132306