Ga Terug
The 100-plus Study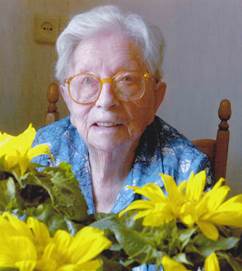 When Mrs. Hendrikje van Andel-Schipper died at the age of 115, she was the oldest woman in the world. Remarkably, her mind remained razor-sharp until the end of her life. Her case demonstrated that it is possible to reach extreme age without any signs of cognitive decline.
This raises several questions:
How can human neurons remain functionally competent for more than 100 years?
Do neurons from these super-agers possess unique molecular mechanisms that express resilience against the toxic effects of Alzheimer-associated proteins that accumulate during aging?
Do they not accumulate such proteins in their brain, or do they have more effective clearance mechanisms?
Did their immune system remain in optimal condition, despite their extreme aging?
The case of Mrs. van Andel-Schipper will not answer these questions, unless we compare her clinical characteristics with those from other individuals with the same extraordinary combination of phenotypes: extremely old and cognitively healthy.
The 100-plus Study cohort
Some people develop dementia at 60, while others live to be far over 100 years in great mental health. What can we learn from those who remain cognitively healthy until extreme ages? Extreme old age without dementia often occurs within families, suggesting that heredity plays an important role in the protection against dementia. To identify the molecular characteristics associated with the delay or escape from cognitive decline, and Alzheimer's Disease (AD) in particular, we initiated the 100-plus Study in 2013. The 100-plus Study is an on-going prospective cohort study of Dutch cognitively healthy centenarians (CHCs). We aim to include at least 500 CHCs in the 100-plus Study cohort; currently (October 2017) the cohort comprises 306 CHCs.
Inclusion criteria
The 100-plus Study includes CHCs from the Netherlands, who
are aged 100 or above
self-report to be cognitively healthy, which is confirmed by their family members and/or caregivers
consent to donation of a blood sample
consent to undergo an interview and neuropsychological test battery
First phase in 2013
Researchers visit the CHC at home, and we interview them about their life-history, we collect family and medical history, neuropsychological data and blood samples. Remarkably, almost 30% of the CHCs agreed to post-mortem brain donation, an optional element of the 100-plus Study. To evaluate changes in cognitive functioning and general well-being after inclusion, we schedule yearly follow-up visits (for brain donors half-yearly), until a participant becomes too frail for further visiting.
Second phase in 2017
We initiated a second phase of the 100-plus Study in 2017: next to CHCs we include CHC‑partners, first-degree family members of CHCs and their respective partners, who are willing to participate. Optional elements are added for the centenarian participants: CHCs can opt for a brain scan, isolation of iPS cells and feces donation. Note: none of these optional elements are obligatory, i.e. required for study participation.